Dealing with the quality control


It concentrates on "supreme quality", and the quality which gets the customerfs trust and the satisfaction is provided.

We wrestle with proposition with the production system by the quality control system and satisfaction of customers day by day.

And, it is aiming at the above standardization more by the feedback of the result of the analysis to the manufacturing department and Engineering Department





---

The visual inspection is being done at each process by the inspection process skilled inspectors.



---

The brightness which is the life of reflector, inspection, the color, the transmittance and heat resistant temperature are managed with the exclusive measurement equipment.


@Products Guidance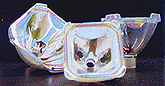 @Research and Development